This is the Garden Tomb, just outside Jerusalem. Read about our adventure to Israel 3 years ago
here
.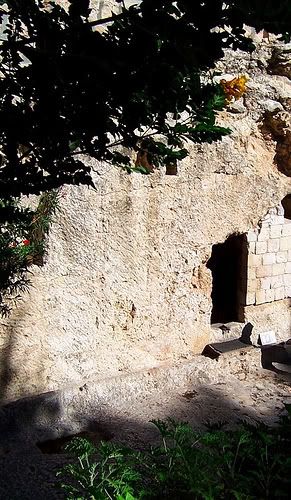 John 19:41-42 At the place where Jesus was crucified, there was a garden, and in the garden a new tomb, in which no one had ever been laid. Because it was the Jewish day of Preparation and since the tomb was nearby, they laid Jesus there.
John 20:1-2
1Early on the first day of the week, while it was still dark, Mary Magdalene went to the tomb and saw that the stone had been removed from the entrance. 2So she came running to Simon Peter and the other disciple, the one Jesus loved, and said, "They have taken the Lord out of the tomb, and we don't know where they have put him!"
John 20:24-31
24Now Thomas (called Didymus), one of the Twelve, was not with the disciples when Jesus came. 25So the other disciples told him, "We have seen the Lord!"
But he said to them, "Unless I see the nail marks in his hands and put my finger where the nails were, and put my hand into his side, I will not believe it."
26A week later his disciples were in the house again, and Thomas was with them. Though the doors were locked, Jesus came and stood among them and said, "Peace be with you!" 27Then he said to Thomas, "Put your finger here; see my hands. Reach out your hand and put it into my side. Stop doubting and believe."
28Thomas said to him, "My Lord and my God!"
29Then Jesus told him, "Because you have seen me, you have believed; blessed are those who have not seen and yet have believed."
30Jesus did many other miraculous signs in the presence of his disciples, which are not recorded in this book. 31But these are written that you may believe that Jesus is the Christ, the Son of God, and that by believing you may have life in his name.