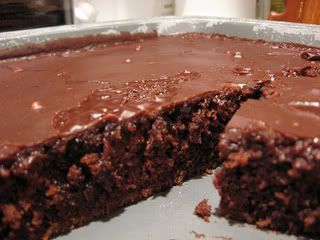 I spent all day trying to bake what some people call a Texas sheet cake. In my family I grew up calling it a Scotch Cake...not sure if it's because the great-grandma who called it that was Scottish or because it had scotch in it. (the recipe doesn't call for it but someone may have changed it)
Anyway, I needed to make a cake for a funeral dinner and wanted to make something nice that fed a lot of people. I started making it before lunch and realized I had no cocoa powder. A couple hours later (after picking up Maggie from school, taking a boy home and then picking up and waiting on the Emma to finish cleaning my sister's house..oh, and going to the grocery store) I continue making it. But before adding the wet to the dry ingredients I decided I'd better double it. It is a labor intensive recipe, boiling the butter and cocoa, etc...an hour later I am just putting it in the pan.
A mountain of dishes and making the frosting and putting that on...it ended up taking HOURS to make it. It's yummy though. With the double recipe it made half a sheet cake and a small pan for us at home. I took the half sheet pan to the church for the funeral meal. The cm whose dad died ended up raving about the cake and wanted to take every scrap of it home.
So it was worth it in the end.
The end.
Here is the exact recipe I used (although I made it without nuts today)....Pioneer Woman has gotten a hold of it somehow.
Texas Sheet Scotch Cake