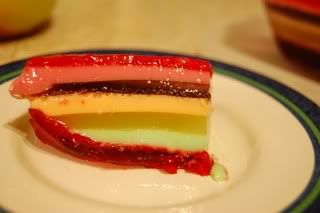 A friend called me tonight and said she wanted to bring something over. I gave her the directions to my house and there in her hands was a glass dish of stripedy jello! We have been messaging about this recipe for a few weeks now....and I procrastinate, but Angie doesn't! She is a little powerhouse and a giver and because I would not get it together and make the recipe, she did it herself and brought it to me.
Angie's been reading my blog and saw the Jello Chronicles section. She has this beautiful recipe for striped jello that her mother used to make and now she makes it for her son. And it makes her really excited! She brought it to us and stood there bursting, so we all sat down to have some.
It is delicious.
Thank you Angie. I know this really was a labor of love for us. Let's see....6 hours making a jello dish then driving across town to deliver it.....when you already work full time and have some huge challenges in your life right now. Thank you so much. We love you and love that you are the kind of person who gets excited to bring us your jello recipe. How fun and caring. For lots of reasons, it's a treasure from you.
Here is the recipe as Angie wrote it for me:
Warning: need to plan for about 10 minutes each hour for approx 6 hours in order turn out perfect. Will save little bit of time if put the dish in freezer before start so it can harden first layer quicker, it is always the layer taking longest.
1- (3oz)pkg. each of the following jello flavors:
Black Cherry, Cherry, Lime, Lemon, Orange, Orange Pineapple, Strawberry
1- can sweetend condensed milk
Mix black cherry jello with 3/4 cup boiling water & 3/4 cup cold
water. Stir well. Place in 9x13 inch glass pan & refrigerate untill
well set.
Mix cherry jello with 1/2 cup boiling water & 1/2 cup cold water & 1/2 cup sweetened condensed milk.
Stir well & cool, place on top of first layer & chill untill well set.
Continue layering jello, making sure previous layer is well set &
mixture you are adding is cool. Even number layers are creamy.
When done you will have a beautiful 7 layer giggley jello everyone I have make if for has loooved. You end up with the cherry, lemon & orange-pineapple layers being creamy. Serve scoop of cool whip and yummy.
I have experimented with changing the flavors of jello and found that the grape is good in replace of strawberry and if you can find it the berry blue is a good layer when creamy.