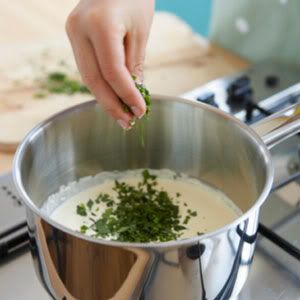 This morning the air was different in my house. The windows had been open all night and the cool front that came through last night has cooled the temperatures down by about 15 degrees. I love fresh air in the house. It feels and smells different.
I wanted to make soup tonight not just because of the fall weather but also because my oldest daughter now has mono. She can barely tolerate swallowing things that are solid. Leftover broccoli and grated cheese in the fridge got my attention. I haven't made broccoli cheddar soup in years! But we love it, so I carefully followed a recipe from the internet and got a very nice soup. Maybe the reason I don't make it often is because I've had several bad experiences just winging it with broccoli soup. It seems so easy, yet if you don't do it right, it turns out lumpy with separated cheese and thin broth.
The recipe I used is supposed to mimic
Panera Broccoli Cheese Soup
. The only difference I made in the process was to stir the grated cheese in after I added the milk to the roue, before adding the broth and vegetables. I think it blends better if you add it then, instead of trying to add it to the broth full of broccoli.
After one bowl I had to go change from long sleeves into short. It really warmed me up. Oh, and everyone agreed on the warming affect...it's not just because of my hormones this time!
As I was enjoying my soup, I thought of this weekend. I love it when God shows me something in a word picture. I'll be joining some ladies from church for a women's ministry leadership retreat. I am hoping the blending and process of our retreat produces a really comforting and unified blend of leadership for our church. Even though we have great ladies on the team, I think it's still something to pray towards.
If you've gotten anything at all out of following Christ, if his love has made any difference in your life, if being in a community of the Spirit means anything to you, if you have a heart, if you care— then do me a favor: Agree with each other, love each other, be deep-spirited friends. Philippians 2:1-2 (The Message)