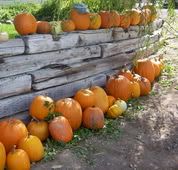 In 24 years of being in ministry at five different churches from New Jersey to Arizona we have seen how different churches handle the holiday of Halloween. Most of them really had nothing in place, so we would instigate a 'harvest party'. I love those. We would invite people, announce it in the papers and then just have our own church kids show up for it. Those were fun times and our children loved it too. When we moved to Phoenix two years ago, our church here already had a tradition for October 31. They go all out and have a huge block party. And it is not just for the church kids! It involves hundreds of attendees from all walks of life.
The church rents several inflatable bouncer houses and a huge rock wall to climb with springy safety ropes and everything. They cook hot dogs and have ice cold cans of Cokes and water bottles for a thousand people. We collect candy for months to give out at the game booths and rides. They have a slide show of the church's events for children and youth playing where people are eating their hot dogs.
Every last thing is free. We advertise it as a block party for our neighborhood as a safe alternative to trick or treating. We go on a prayer walk the Saturday before the block party and pray for the neighborhood by house and leave a door hanger invitation. (we do not knock on the doors) Last year we handed out 700 invitations. This year, the church members rallied and put out 2,000 invitations.....as well as praying for 2,000 homes.
They are so organized. The woman who leads it is a former professional event planner. She has "God Rocks the Block" t-shirts for the workers, policemen to patrol around the campus, and people who swoop in when the party is over and take down and clean up in a FLASH! People leave feeing like they had a fun night in a family setting.
This year my husband got a great idea. He had a team of greeters who walked around the block party welcoming people, talking and encouraging and praying for people who had come. Several people got the chance to actually ask people for some need they could pray for their family about. And no one (that I've heard of) said no. My husband got the opportunity to pray with several people, all who appreciated it and were open and grateful to him, including two adult Jewish sisters. Several said they had been looking for a church or to get back into church and they had wondered about ours.
So now.....tomorrow is Sunday and in the following month after Rock the Block we see a lot of these people come to visit our church. Please pray with us that they will be drawn to Jesus and feel welcome in our church. We are looking forward to seeing the harvest of people that God is going to work in. Every year we get at least one family who starts coming to our church from the party, but this year we are hopeful that there will be more than just one or two.