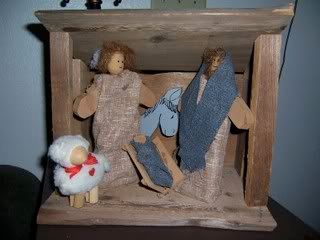 I forgot that I posted that last little blip. I was in the middle of baking, shopping, and a last minute rush to get ready for our last day of school, making sure I had my part of the teachers' snack day ready, as well as little token gifts (of peppermint biscotti) for my coworkers. In the middle of all of that, we had our Wednesday night activities of AWANA and prayer time with a friend. It was quite a day.
I'm much better now. Yesterday was our last day at work for Christmas break. Everyone at our school was throwing around MERRY CHRISTMAS's allllllll day long. No "Happy Holidays" in sight or sneers at the word Christmas. I think that is all PC hype! Most of the store clerks I've run across say "Have a merry Christmas!" too. I think a counter 'rebellion' is on. We can't be led along by the nose anymore by our weird PC propaganda.
And, as my dear husband said in his last sermon, that is not the point anyway. Most of our culture doesn't really observe a celebration centered around Christ's birth anyway. But here is an article from my friend e-mom's blog,
Chrysalis
, I've been meaning to link to ALL December on making more of the Christmas season. I especially appreciated the part of the article quoted from the
Purpose Driven Christmas
by Rick Warren. Great thoughts and ideas!
Only 4 days left until the great day of Celebration of the Incarnation, my friends! Put on the music, shop with love, bake with joy and Merry Christmas to you!