There is an internet cookie recipe exchange going on over at
Walking Faithfully
. Go on over to get some new recipes and add a link to one of your favorite cookie or candy recipes!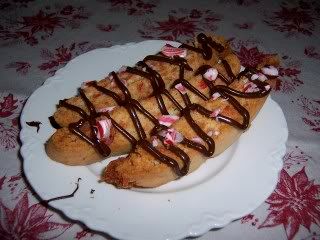 Peppermint Biscotti
1 stick butter
3/4 cup sugar
2 eggs
1 1/2 tsp peppermint extract
2 1/4 cups flour
1 1/2 tsp baking powder
1/4 tsp salt
1 1/4 cups crushed peppermint candy canes - divided
(Some to add to dough and some to sprinkle on top)
Chocolate chips or candy bar
Preheat oven 325º
Cream butter and sugar and beat until smooth and creamy.
Beat in eggs one at a time.
Add the peppermint extract.
Add flour, baking powder and salt, add to wet mixture.
Beat til smooth.
Stir in 3/4 cup crushed candy canes.
On a floured counter, divide the dough in half.
Roll each half into a long roll.
(about 1 1/2 inches in diameter and 10 inches long)
Set the rolls on a baking sheet at least 3 inches apart.
Bake in the top third of the oven for about 25 minutes.
(or until lightly browned on top)
Cool the rolls for 5 minutes.
Slice diagonally into 1/2 inch thick slices.
Lay slices flat on the baking sheet and return to the oven.
Bake for another 10 minutes.
Turn the slices over and bake another 10 minutes.
Cool on a rack.
Melt chocolate in small batches in microwave.
Pour some of the chocolate into a small ziplok bag.
Snip a tiny corner of the bag.
Drizzle melted chocolate from ziplok bag onto one side of cookie.
Cool and store in airtight container.
Enjoy these dipped in coffee, tea or hot chocolate.
Merry Christmas from our home to yours!