We had a busy day.
1. First we went to breakfast out at
The Farm at South Mountain
. It is a farm where they grown flowers, vegetables and fruits and they bake artisan breads and sell other goodies at a stand there. I wish I had taken some pictures. It was the cutest place....so green and rustic and quaint. If you click the link, you'll see some of the wonderful feasts for the eyes that we saw this morning. We ate at the Morning Glory Cafe. Thanks Ed and Cheryl for taking us.
2. The bathroom is painted! The pictures are below. It's all nice and periwinkle now. It looks a bit more purple in true light. The camera flash made it look more blue.
3. I talked to Hannah today. She had driven down to Sedona all by herself (half hour drive, but it's down a canyon on switchbacks) and she is doing lots better. She feels more prepared for what she'll see and not be so shell shocked in her new social work type of job. She comes tomorrow night and will be here til Thursday morning taking classes for her job and shadowing workers in the Phx area. (should be INteresting) So she was sitting at an outside table at a coffee place, sipping coffee, reading her current book (forgot to ask what it was) and probably getting a sunburn.
4. Softball.....all evening. We're beat..goodnight.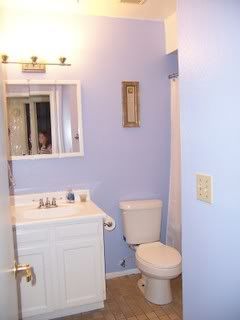 You get a little glimpse of Maggie in this on for free in the mirror.