It was super rainy here the other day and we got
soaked diving in and out of the car running errands.
So when we got home, I made potato soup, but I did a
few things differently. Here's what I did (and it was
REALLY good):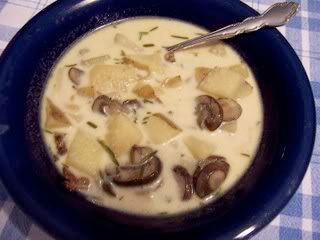 Fried Potato Soup
4 T. butter
1 onion, sliced into thinly cut strips
Salt and pepper
5 large potatoes, slice thin (skin on), then quarter
the slices
1 1/2 cups or more of sliced mushrooms (any kind)
1/4 pound bulk sausage, cooked, drained and crumbled
3-4 cups chicken stock/broth
1/2- 3/4 cup half and half (or milk)
2 tsp fresh or dried rosemary, chopped
Crisp bacon crumbles for garnish
-About 4 T. butter in a dutch oven, heat on med HIGH,
toss in the onion, and fry those pups....almost to
until carmelized. Salt and pepper them.
-Add the thinly cut potatoes and fry those with the
onions. You will not need to add any extra butter or
oil, as the onions soften they add moisture. Stir a
few times, but not too often. Allow the potatoes on
the bottom of the pan to brown before stirring each
time, scraping pan each time to get all the seared
bits off the bottom (flavor, flavor).
-When the potatoes were almost cooked through, as if
making cottage fries, add a carton of mushrooms (I
used sliced baby bellas) and crumbled breakfast
sausage and cook until they just begin to look like
they are heated through.
-Add 2 cups of chicken broth...then add just enough
to cover the potatoes.
-Add rosemary and cook for about 15 minutes, then
remove from heat and stir in enough half and half to
make it look like a cream soup...not too much. This
should be a very chunky soup with a little broth, not
a cream soup with the occassional chunk. ;)
-Sample broth and add salt if needed and pepper.
-Crisp up some leftover bacon (which you should hoard
in the freezer in ziploks for just such an occassion)
in the microwave and crumble on top of each steaming
bowl of hearty soup!
My family loves potato soup, but this one was a
kicker! The difference was 'frying' the onions and
potatoes. It made the flavor much more intense and we
loved it!