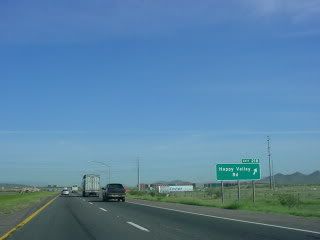 Yes, there is a place called Happy Valley. Doesn't it just make you want to sigh with contentment! I've had Happy Valley rescue me out of the brink of anxiety and strife twice now. Twice.
The first time was with my daughter Hannah. She was driving her little Honda civic back up to Flagstaff from Phoenix and I was along for the ride. Just before Happy Valley Road we heard a bump and felt a definite jerk and realized we had just had a tire blow out. We were in the left lane on a busy interstate, so we pulled off to the left in the grassy, rutted area between north and south bound lanes. We came to a stop and sat there quietly.....waiting. Hmmmm, no men with us, we had to make a plan. CALL SOMEONE TO COME HELP US! That was our plan. I called my sister with the last bit of battery power in Hannah's dying cell phone and she called the highway patrol.
Uh yeah, hello highway patrol, my really helpless and lame sister is stuck on the median with her little helpless daughter. They need HELP! Waaaaaaaaaaaaaah. Or something like that. I could only imagine.
I spied the Happy Valley turn off and it mocked my very being. So close and yet so stuck.
No sooner had we hung up than a patrol car pulled up by us and licketty split Hannah's donut spare tire was in place and the officer was guiding us across the lanes of traffic to that elusive Happy Valley. He actually put on his policeman lights and stopped traffic while we revved up out of the rutty median and across the highway. Ha! We had longed for it and now it was ours, our happy place. Our valley of great happiness. We pulled in to Walmart and pulled out again in 30 minutes with a new $35 tire in place and balanced. I love happiness. I even loved Walmart.
Today Happy Valley really delivered again. Emma needed a book for her advance English class. She needed it last weekend. The quiz on the first chapter was yesterday! *whoopsy* So we felt the adrenaline in our guts and we set out to the library. No book. I dropped her off at the church for music practice and went by Bookman's. Nope. I went to Barnes and Noble. Wah. Supposedly the teacher thought he had reserved enough copies but the store manager said it was never done. They were sold out. Yep.
I had him call the B&N in the north part of town (Happy Valley) and they had it. They said they had it at the front desk with MY name on it. I love them. I went home and unloaded the groceries we had bought before all of the running around. I looked in the yellow pages for a closer bookstore. None. So I waited until 6pm to wait out a little of the rush hour traffic and then I set out, thinking it would be a long night. Traffic was NOT bad, and I was home in exactly an hour, sitting on my couch with American Idol beginning. =) Ahhhhhhh It was so sweet to just walk up to the counter, say my name, plunk down $15 for a minute paperback book (I didn't even care) and walk right back out in less than 2 minutes. Oh yes, happy.