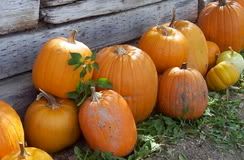 The high was only in the low 80's today and it was overcast. I hate to get my hopes up that we could actually have fall this year in Phoenix. But for the weekend I'll pretend. The porcelain pumpkin is on the piano with fake leaves around it. I keep putting candy corn in it, but then it disappears. The fall welcome decoration is on the front door and I bought a new fall tablecloth. I can always turn the air down and pretend. ;)
We have lived several places where there is a real fall. Some things I miss:
*punkin picken hayrides at Johnson's Farm, NJ
*frestly pressed, cold apple cider and donuts from a roadside farm stand
*cornstalks on porches and electric candle lights in windows
*driving down main street in Moorestown, the falling leaves raining down on us
*Ivins spiced wafers
*huge piles of leaves in the yard, Charles pitching the girls and the dog into them
*yellow aspens turning the mountains of northern AZ golden
*sipping coffee and visiting townspeople at the downtown coffee shop in Williams
*the drive to Flagstaff from Williams in the fall
*going out to see elk in the meadows and hearing their bellows
*campfires in the woods
*having a blazing fire in our own living room
I enjoy living here in the desert, but this time of year I do miss autumn.