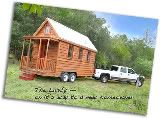 I want one of
these
. I would park it in my backyard so I could have a nice little retreat and Charles could have somewhere to sleep when he mentions me in sermons too much. *j/k* I would plant flowers in the window boxes and paint it light blue with white trim. And in the summer I could haul it up to my sister's lot where her cabin is and Charles and I could have our own private get away.
We always have said when we retire (do pastors ever really retire?), we could buy a travel trailer and live in it while we travel and go on mission trips and such. We have our kids scared that we will park it at each of their four homes for 3 months of the year. (probably because we tell them we will do it) To which Hannah always says, "I'm living in an apartment then." haha, very funny Hannah. When you need a grammy to babysit, I will be at Emma's taking care of all of her sets of twins. (family joke about a very funny game of Life in which Emma needed several minivans to tote her crew around)
If we had one of these, they might want to travel with us though.....we could all caravan! We would have a ready made neighborhood wherever we went!
What do you think? Aren't these the cutest things ever?