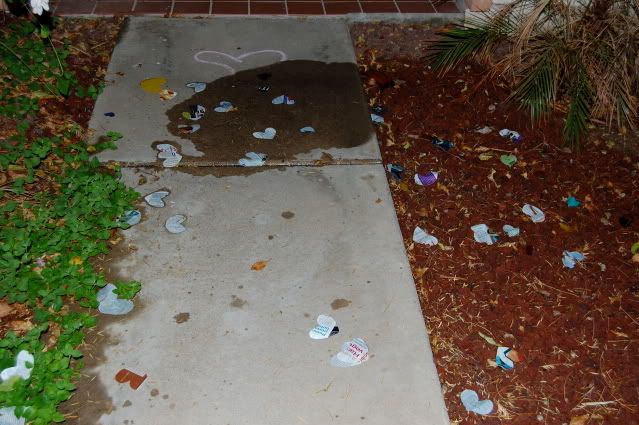 We woke up this morning to rain! There is always big excitement in Phoenix about rain. It will dominate the evening news. The reporters will be standing out in it, the camera will pan around puddles of it, there will be video of cars driving on wet streets and there will be 'man on the street' interviews of the general public saying how happy they are for the rain. It's really entertaining. It makes you learn to appreciate what you seldom have. It makes you thankful.
I got my coffee and went out in the garage to see what Hannah was doing. She is going through her stored belongings, packing things to take with her to California. We are leaving Monday to take her up to a ministry school in northern California for a year.
While we were talking I noticed all the bits of paper all over the driveway. Hearts. Everywhere. We got heart attacked! I'm sure I know who it was since she was here at our house the other day wanting to heart attack people. People who like to do fun vandalism should not brag about it in front of a potential victim. But yes, I know who you are! And if you
really
love us, you will come and pick up all the bits of paper that has now been wet all day and has sunken down between the rocks in our front yard. Yes, very cute, but the reality is a lot of wet paper.
But I still am thankful for the rain. And in a smaller way (because it's kind of a mess), I am thankful that the youth group loves my kids and gave us a heart attack.