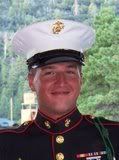 Thanking God for the Hope we have in Him, even when things don't make sense.
My cell phone beeped yesterday morning, so I picked it up and quickly glanced at it to see who the text message was from. Instantly I threw it back down as tears filled my eyes. "Why did I read that? Why did I read that now?" My sister caught the phone in her lap. We were stopped at a light, and I had to keep driving through the tears and gasps of air.
The only words I saw were "Matthew Broehm killed...." I shouldn't have read that text in those moments. Becky distracted me by making me talk and when I was ready she read the whole thing. Charles had texted me and all of our daughters telling us that a dear friend from our church in Williams had died in Afghanistan that day. He was a Marine and I found out today from the news that he did die during combat.
He was 22.
His family and ours had moved to Williams around the same time and we all became quick friends. They were a homeschooling family with older teens, like us. They had 2 tall, strapping boys, one girl Hannah's age and one younger boy who was smaller, that was Matthew.
Matt was a very sincere kid. He always listened intently to anyone who was teaching or telling him something. It seemed like he was just eating up the information and had a great respect for people and great manners and attitude. This sometimes singles a young man out for ridicule, but no one made fun of Matt unless he was in on it too. I think this was because you could tell he liked you and was genuinely interested in you when you were around him. He was the first one to raise his hand when the youth leader asked if anyone would lead them in prayer too. He became famous for it...whenever the leader asked, we would all just look at Matt. Then he would crinkle his eyes, smiling and begin praying. What a cool kid! As he became older, the girls all crushed on him and flirted with him and made him blush.
I had the privilege of working with our youth for a few years in Sunday School and got to see him starting to really mature as a Christian and start to be a mentor to some of the younger boys....always encouraging them and talking to them, making them feel included and loved. There was some talk of him going into youth ministry too.
Maybe because he was smaller than his brother or maybe just because it caught his interest, he started taking Tae Kwon Do. Then he realized this was his thing and worked his way up to black belt and soon was teaching the class to other kids in town. He was a hard worker. He liked really hard core Christian screamo music, full of passion and conviction. At some point in those years he went from being called Matthew to Matt.
I remember being surprised (but not at the same time) that he was enrolling in the military. The Marines....wow. *shudder* No one doubted that he could do it, but at the same time we dreaded that kind of lifestyle for such a nice kid. His first visit home, he was the picture of a Marine in uniform seeing him at church for the first time....so confident and looked taller too. His parents and siblings were so proud of him.
We moved away and out of touch with many of his family, besides Facebook updates. It was on Facebook where we learned he had become engaged and married a beautiful young lady, his Marine comrades stood with him, all handsome in the wedding pictures. Then we heard of him shipping out to Afghanistan just a short time later.
And now killed. A wonderful young man. I will remember Matt very well. I can see his cute, blushing smile and his hand going up to volunteer to pray. I can see him talking seriously to our youth pastor at the time or to my husband or his father. He was always watching the men of the church, always learning from them.....he was always in the process of becoming someone...of having a meaningful life.
I am not questioning God about how He allows things to happen even though it's hard to understand. Death comes to the just and the unjust. Some are young and seem to have so much left to give and some are ready, having lived a long and fruitful life. We will never make sense of it with our mortal eyes. But we accept and we trust God and we will always remember the humble, mature and honorable way that Matt lived and died.
To the Broehm family: I love you all and am just heartsick for you having to give up your Matt so soon.
May the God of hope fill you
with all joy and peace as you trust in him,
so that you may overflow with hope
by the power of the Holy Spirit.
~Romans 15:13
Even youths grow tired and weary,
and young men stumble and fall;

but those who hope in the LORD
will renew their strength.
They will soar on wings like eagles;
they will run and not grow weary,
they will walk and not be faint.
~Isaiah 40:30-31