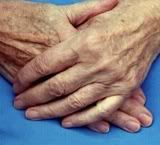 For the past 5 weeks, Tuesday has been the day that I take my mom to our morning ladies' Bible study at church. We go and meet with about a dozen other ladies who range in age from late 30's to 80's. It is a group of seasoned Christian women with lots of wisdom, knowledge and good sense.....and we all get along like old friends every week. I am thankful for those ladies.
They spur me on (and although spurs sometimes pinch, they work). These women have been through almost all life's ups and downs. You name the blessing or tragedy and it's there in that room each week. And they are lovely, wonderful women. Life has not embittered them, but blessed them, even with all of it's trials. I know that when they speak, there is a lifetime of hard-gained wisdom motivating their words and thoughts. Very cool when you think about it.
Today my mom and I went out to lunch and as we sat there trying to decide what to order, a man in the booth behind my mom said something about the elections today. He said something so hateful and spiteful against Christians that I lost my appetite. It was also just plain untrue. I could tell he did not actually know many true Believers and was speaking out of some pain or maybe just propaganda from some group he listens to.
It made me heartsick and shocked that someone would think that about me.
So I am thankful for that group of ladies. I can see Christ in them and the rich, wonderful rewards of living life for the I AM, the One who is. The world is changing almost daily and we must lift Him up and let our Light shine....
....because if people see Jesus in you, in us, they will be drawn to Him......and they may reject Him. But let it be based on Jesus and not on us.