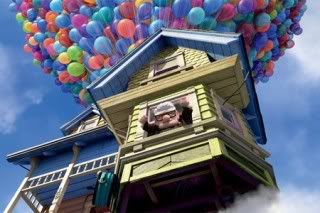 Our 25th wedding anniversary was this past Monday. We decided to go to a movie and dinner and shipped off the kids to various places. After a little haggling over what to see, we decided on
Up
. All I can say is GO. It is such a cute movie, so different than what I expected. The first third or fourth of the movie is a very poignant look at a couple as they go through life together. Bring tissues, the story is played out quickly but so well done that you feel as if it could have been partly your story. It felt like that to me anyway. The first part lays a foundation for the story. Children may not 'get it' and be bored, but just tell them to wait and watch.
**spoiler**The rest of the movie is the adventure one spouse goes on, continuing his journey after his wife is gone. He goes on a very unexpected adventure, full of surprises that will have you laughing your heads off or rolling your eyes. But none of it is very predictable. I always appreciate a movie that is not full of predictable moments.
The end is uplifting (not meant to be a pun, but that is funny) and positive too. It's not goofy or predictable either.
It's just a really good, original story (a well organized and put together story), full of originality and character building moments.