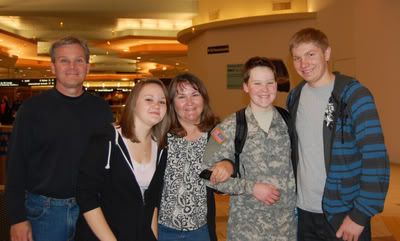 After a 3 hour delay our dear girl came down the airport corridor and into our arms yesterday. She's been at basic and MP training in Missouri since September 6 and it was a long fall! Only one call per week on Sundays (if they got their privileges that week), sparse but wonderful letters and a Facebook fan page were the only form of information and communication with her for the past 4 months. And now she is on holiday leave for 12 days! With us!
We are calling it
The Twelve Days of Emma
. Bring it!
Day one was celebrated caroling with our church and reunions with friends of Emma who came caroling. Then we came home and finished decorating our Christmas tree. We put it up in early December, but it's only had lights and ribbon on it until last night. We had a little Christmas decorating party with Christmas punch, Fritos and Bean Dip® and little round wedding cake cookies.