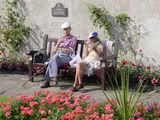 I relaxed today. The tension went out of my jaw and I didn't look around with a panicky feeling (like someone is coming up behind me) once!
Charles got home from his trip to Africa this morning. So for two weeks I've been on alert, on guard, watching my own back. I can't help the natural tendency but it does bother me a lot.
I have already admitted it to myself in the past, but I have to say it out loud and type it out there to you. I think I put more trust in my husband than I do in God sometimes.....especially with daily, practical security. My feeling of contentment in life leans more toward my tangible partner.
I did stay all by myself in the new place one night while he was away. A few nights ago Maggie was spending the night with a friend and Bethany could not come over (even though I kind of whined to her) because of work. As it turned out though, I was glad I did it. The ladies in my Bible study that evening prayed for me and I gave my anxiety about being alone to the Lord before heading back to bed. And then I had to trust.....forced myself not to think about any anxious thought and went about my routine. The next morning I felt like I'd had a break through spiritually.....a small one, but it was significant for me.
I guess feeling incomplete when your husband is away is alright. It's kind of natural. And I am glad he makes me feel more secure when he's here. But I know I can do it if he is not. It was a step of faith to not let the anxious thoughts develop because I have a very vivid imagination and my mind can invent some scary possibilities.
I just thought I'd share my little faith/trust building event because I know it is a common problem. Trust Him and then squelch the chatter of the anxious thoughts.
The verse I have always gone back to for setting my mind straight is Philippians 4:6-9. Here it is in The Message paraphrase. I like it!
6-7Don't fret or worry. Instead of worrying, pray. Let petitions and praises shape your worries into prayers, letting God know your concerns. Before you know it, a sense of God's wholeness, everything coming together for good, will come and settle you down. It's wonderful what happens when Christ displaces worry at the center of your life.

8-9Summing it all up, friends, I'd say you'll do best by filling your minds and meditating on things true, noble, reputable, authentic, compelling, gracious—the best, not the worst; the beautiful, not the ugly; things to praise, not things to curse. Put into practice what you learned from me, what you heard and saw and realized. Do that, and God, who makes everything work together, will work you into his most excellent harmonies.