I think I promised a story here. My apologies for being tardy about it.
This is a story about a van.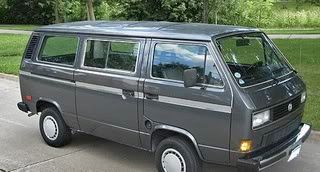 The first pastorate that Charles had was doing church planting in New Jersey. One of the churches in that area was Bridgeview Baptist Church, which sat in the middle of an old neighborhood in a tiny borough called Delair in the township of Pennsauken. This church had a parsonage right beside it and since their bi-vocational pastor owned his own home, they wanted the new church planters to live there for as long as they needed it. We did....for ten wonderful years. When our church planting time was over, the church next door to us was just losing their pastor because of a job transfer in his company, so they called Charles to be pastor at Bridgeview. I could go on and on about life in New Jersey, it was a place that was different in all ways from the places we had grown up and lived. Some day (not tomorrow) I'll do that little thing.
When I saw this picture below on my friend
Sara's blog
, I jumped up and down in my heart. (I was sitting or I may have jumped in my legs too) I showed it to all of my kids and to Charles. I posted it on Facebook wondering which of my friends would remember it. The picture was not of our van. It was taken by Sara just a few days before she posted it....in Oregon. I guess someone could have bought the van in NJ and brought it back to life and driven it to Oregon, but that is doubtful.
The other thing that struck me like a lightning bolt was that it looked like the front of our dear home in New Jersey! We had a sidewalk like the one in the picture, we had huge maple trees in the yard, and we had no driveway, so our van was always parked in front, just like in this picture. Wow, it brought back memories.
Our first child, Hannah, was only 2 months old when we moved to that house. And I was pregnant with our last child, Maggie, when we left. We lived there 10 years and raised our first three daughters there through their preschool years and beyond.
We found the van at a used car lot one day. It was roomie. You could stand up, hunched over, and walk around in it, handy with preschoolers, car seats and camping trips. It had a huge wagon area behind the back seat where we could stow everything we needed for camping trips. And it was cool.
I grew up in the 60's and 70's and had always wanted to own a VW van. I used to day dream about taking one cross country and seeing places and doing things. I just never pictured it with 3 little kids and a dog, which in reality is a lot different than my vision, but it was still fun. We did this several times in that van. Once to Colorado to meet up with family for a camping trip and once to Tennessee to meet up with family for another vacation. That trip was murder to come home from. There was a heat wave on the east coast and our air conditioning did not work much of the time in that van. So I bought a spray bottle and would spray our little kids til they dripped, and the dog too, and we drove with the windows down, like we were basting little roasts in a convection oven. We also took that van to Vermont many times on camping trips. We had a campground there that we loved, at
Quechee Gorge
. That was where we made a lot of memories and built strong bonds with our children.
We also drove that van across Pennsylvania each summer to a children's camp by Erie, PA. Every year Charles would be invited to do the music and teach classes at this camp for northwest Pennsylvania and the whole family would come along. We had our own little cabin to stay in and it was a great experience. I was the camp nurse once but I didn't do it again because I can't stand cleaning up wounds and blood.
It was a traveling sort of van. It evoked a spirit of adventure and exploration. We loved living in New Jersey partly because it was full of things to see. We took the van to
Cape May, NJ
many times, to
Lancaster County, PA
, to Baltimore, to Virginia, Chesapeake Bay, the shore (as they say in NJ), even New York City once to see another church planter friend in Queens.
Something that is kind of a secret we found out is that when you drive a VW van, you are automatically in a club. I started noticing right off the bat when we got the van, that people who drove other VW vans wave at you....and give you the peace sign with their fingers or nod their heads at you as you pass by. I told a teenaged friend about this and she thought I was exaggerating until she rode with me in it a few times. Sometimes when we traveled, another VW in the opposite traffic lanes would shout out the window and honk their horns at us. I loved it! Super cool. What days those were.
The secret club is also the reason I killed our van one day. I was on the way home from picking up Bethany at kindergarten, when someone pointed at me while passing and yelling something out the window. Strange, they were not in a VW at all....maybe they usually drive one and had forgotten they were not in their club van for identification. Then someone behind me began honking.....NOT a VW van either. Wondering if they were impatient, I pulled over to let them pass. I am just slightly not intuitive sometimes. Then a police car pulled up beside me and asked me if I knew there was smoke coming out of my van.
Yikes.
I drove into a parking lot and parked. There was gray smoke pouring out of the back of the van. Hours later Charles had to have it towed to a shop where it was discovered that I had been driving without oil and the head gasket (I still don't know what that is) had cracked (which is a very bad thing for any gasket).
Sad day.
I mourned for my van, but there was no fixing it. The one part cost as much as the van had cost in the first place. ($2500) So we had to say goodbye to our lovely van. We were booted from the club, which was also a hard blow. We bought a used Honda Civic, 2 door....no offense but there was no love for that car at ALL. A 2 door, low to the ground car, as pretty as it was, was really hard on a family of five with one child still in a car seat.
So seeing that picture, Sara, was like seeing a very old friend, like a box of memories in front of those cool fall maple trees....
....like a gift from God, a sweet connection to those wonderful days.
Thanks
Sara
for posting that picture!