You either love them or despise them. I am a recent convert to them.
Last year I was persuaded by a friend at work to try out Crocs shoes because we were on our feet so much. I could not justify wearing paying $40 for a pair, so I bought a knockoff brand at Walmart for $6.
Comfy.....I mean, change your life comfy. I liked.
With my foot problems this year I have just about worn out my one blue pair, so I've been awaiting the new arrivals at Walmart. Meanwhile my sister told me last Friday about a Crocs mega sale near my home, so we jumped in the car. It was an old Circuit City. We were herded in through a cattle shute type of thing and entered the inner sanctum.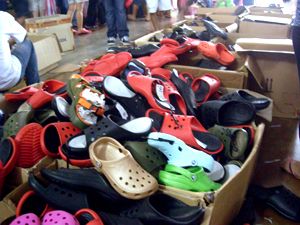 And then I saw the signs. They said TEN DOLLARS. I thought maybe they would be selling for half price....20 bucks. But no, they were all $10. No one there was fazed by the gigantic cardboard boxes that held the cargo. Who cares? They were $10 Crocs! We promptly began rooting through cardboard boxes that you almost had to hang into to reach the shoes. One of the workers did say that a woman had fallen into one of the boxes that morning. What we won't do for comfy shoes.
I quickly found a pair of these: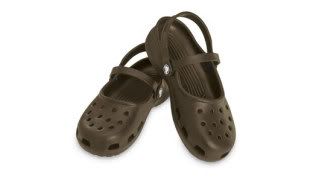 But only one of these:

Only ONE! A very nice woman who was working there told me she'd be right back and took my shoe with her. When she came back, she said she could not find another in that size, but that she would keep looking. Sure you will, I thought. But when we were stepping into the check out line later, a young man came running up and said, "Are you the one who wanted these?"
!!!!!
I was quite happy.
It all reminded me of the story Caps for Sale.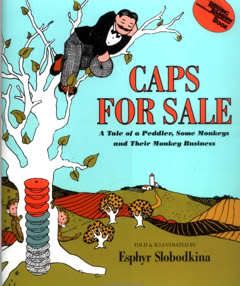 I kept thinking, "Crocs! Crocs for sale!"
Then people hanging into the huge boxes like monkeys.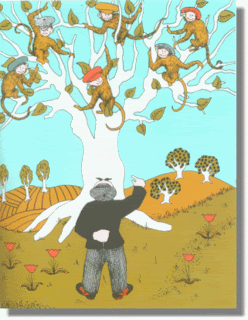 tee hee
Keep your eye out for a Crocs Mega Expo sale near you. They were heading to Texas from here.