Many thoughts overshadow and distract us as this new year begins. So many things are happening in the world and in our homes that it's hard to really focus and process what happens each day, much less each week or month....how about a whole year?
Miriam Webster Dictionary
chooses a word each year. The way they decide on it is to review the major search engines of the internet. The word for 2010 has come down to Austerity. Yeah, I had to look it up too. It means "enforced or extreme economy" and was the most searched word in the dictionary after the European debt crisis last spring.
I don't really think it's a good word for a whole year. Internet searches are prone to very subjective audiences. The sixth most searched word in this past year was "doppelganger", which was a popular game on Facebook. You were to post a picture of your doppelganger (a famous person who looks like you) for your profile picture. A couple of years ago the word of the year was woot....more specifically w00t, with zeroes instead of the letter o. It is an excited shout when you are rooting for a team or person in an arena or sporting event.
It really has no bearing on our year, no real meaning to our lives.
So when I read about some friends choosing a word for this year to focus on, I gave it a lot of thought. I asked God to give me a word for this year. Then I waited. I didn't really hear anything, but started realizing in an off-handed, not conscious effort type of way (which is so often the way God shows me things...when I least expect it), that the word joy kept leaping up in my line of vision. It is all through our home with it being Christmas time. There are several words that are in multiple forms all over my house at the holidays, but the word joy kept catching my eye among the usual noel, peace, hope, love and believe.
Last year the word hope was calling my attention and I can see that it was a theme to my year, which was wonderful and really encouraging. It wasn't hope as in a wish, but more of a hope as in a future. A noun, a place, a thing. Hope with a capital H. Our Hope in Christ....Heaven, our future Hope. All significant as it was a year that could have been called despair with so many losses and personal challenges. But God focused my mind on Hope and it was cool....as it always is when He is showing you something. It kept showing up, kept reminding me, kept focusing me.
It was not an easy year, but it most definitely was a year of having Hope, needing Hope and finding Hope. I had not thought about this until I began writing today. God often helps me to process things as I write and organize my thoughts. I don't usually take the time to do that. But even though I didn't name the past year, God did.
So my focus this year is turning to joy. That is nice. Joy is a good thing! Sometimes the practice and realization of it comes along with trials, so I am also steadying myself. Sometimes joy is the underlying strength that gets you through trials in life. I usually am a very joyful person (My parents almost named me Joy), but this year has taken it's toll on my spirit, I have to admit. I feel it almost physically.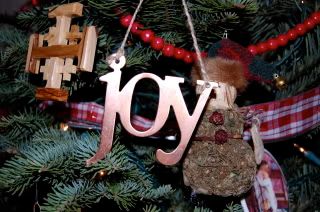 Biblically, joy is a natural result if we are abiding in Christ:
10

When you obey my commandments, you remain in my love, just as I obey my Father's commandments and remain in his love.

11

I have told you these things so that you will be filled with my joy. Yes, your joy will overflow!

12

This is my commandment: Love each other in the same way I have loved you.

John 15:10-12
You remain in Christ, obey His commands (to love Him and each other) and joy will overflow.
Sounds so easy, almost like a formula.
I guess we'll find out this year.
2011, the year of Joy.
Other word of the year blogs:
Holy Experience
There are more word of the year posts linked at the bottom of this blog.
Blackpurl's Knitpickings....an expat journal