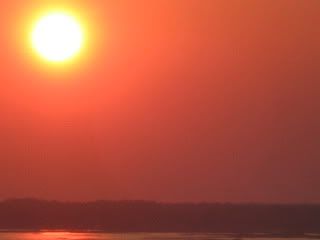 It is a HOT day in Phoenix, the heat index is near 120º.
It is Tim's last day before he leaves for college though, so we took him to lunch. On the way back to the church, Charles recognized a woman walking across the church parking lot. She is a refugee from Iraq who lives in some apartments near our church. We go there to do some outreach and meet people sometimes. Charles thought he would give her a ride because of the heat...she is paralyzed on one side because of a stroke and walking is grueling even on a good day. With the heat today, it is just dangerous.
We picked up Aida and drove to her apartment and she insisted that we come in for a drink of water. She cannot drink the water because it is Ramadan and she is fasting (no liquids during Ramadan until sundown). She kept saying thank you and we got along pretty well with a conversation about her family and what we could help her with. Then, as we were leaving, a young couple came to her apartment too. They are also from Iraq and used to live next door to her, so they come by to see her often. They are also Muslim and they speak English well, so we stayed and talked further with Aida, since we had an interpreter.
We talked a little about other things, then the man asked if we knew of any English classes Aida could go to. As a matter of fact we do! Some ladies at our church have really responded to the need for English as a second language classes (ESL) and started a class during our Sunday School hour. Our faithful van driver picks up several refugees and they meet together for and hour learning English through repeating and learning Bible stories. So we got it set up for her to come.
She also wanted to know if we could help her call her daughter. It's been 5 years since she has heard from her daughter, who moved to Australia. Through the Red Cross she has received a phone number that she hopes will put her in contact with the daughter. So on Sunday we will help her do that too. As you can imagine, she is really excited about it and I am too. Pray that we can find information about the daughter. She doesn't know if she is even alive or in Australia anymore.....it's heartbreaking.
Aida said she had prayed for God to send her someone to help her, so she thanked God first and us second for helping. He also sent that couple to further things along with those ideas on ways to help her. Amazing to see God work, He is reaching out to this little woman who has had so much trauma in her life and is now here in a country where she cannot even communicate with people or know where to go for help. She had walked all the way to her son's school because they called her and found out that everything was fine, and they just needed some information. It was about a 1/2 mile walk each way and with the heat it was a dreadful chore, but God turned it into a divine meeting. Now she will learn about God's love more and more as she comes and as people befriend her in our church.